Third Degree Tears Solicitors from Glynns Solicitors who specialise in medical negligence claims and have various accreditations to confirm this expertise.
Law Society Clinical Negligence Panel
We are members of the Law Society Clinical Negligence Panel, having proved our expertise in this specialist area of claims, providing you with the peace of mind that you need to ensure that you have the right firm representing you.
The Society of Clinical Injury Lawyers (SCIL)

The Society of Clinical Injury Lawyers was established in 2013 as an organisation to represent the views of its members, clinical injury lawyers working with those who are claiming compensation for the effects of clinical negligence.
The objectives of the society are identified as follows:
To act as a representative body for specialist clinical negligence firms acting for claimants;
To promote best practice in the context of clinical negligence claims
To influence public opinion
To provide access to justice to clinical negligence claimants
Julie Glynn, of Glynns Solicitors, is a founding member of the society.
AvMA (Action against Medical Accidents)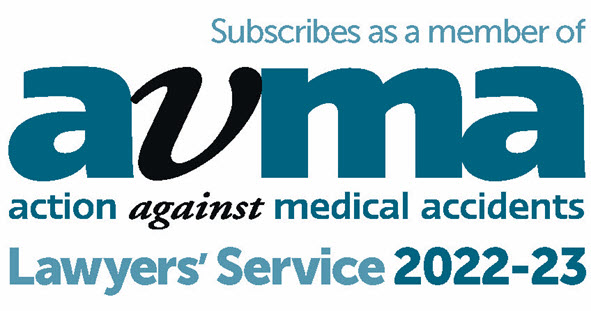 AvMA is a registered charity whose purpose is to support people affected by avoidable harm in healthcare; to help them achieve justice; and to promote better patient safety for all.
Established in 1982, they have since provided advice and support to over 100,000 people affected by medical accidents.
They are a leading voice for patients on patient safety and justice matters, influencing the way the legal system deals with clinical negligence and moving patient safety higher up the agenda in the UK.
The Cauda Equina Syndrome Association & Cauda Equina Champions Charity
Cauda Equina Champions Charity is the only dedicated CES charity in the UK, with over ten years' experience, offering support services to people living with, and raising awareness of, Cauda Equina Syndrome.
They aim to increase awareness to ensure timely diagnosis and treatment of CES therefore avoiding devastating permanent neurological injury.
Their dedicated patient services help reduce trauma and isolation experienced by so many CES patients.
Glynns Solicitors is a member of their legal panel.
Free, No Obligation Enquiry
Call us now on 0800 234 3300 or complete our Free Online Enquiry.